Beyond Raw LIT pre-workout is a gluten-free, sugar-free supplement that increases energy, focus, and endurance to help you achieve your workout goals.
The new 'LIT' pre-workout supplement by Beyond Raw is a seven-ingredient upgrade to their previous market-entry product. Stepping up their game, the product is designed to give you all the necessary energy and nutrition you need before starting your workout. 
Our Beyond Raw LIT pre-workout review article assesses how well the product stacks up—so you can stack weight in the gym. It details its ingredients, benefits, side effects, dosage, safety, and effectiveness. At the end of the review, we'll tell you what we think about Beyond Raw LIT and if it's worth buying.
What Are Pre-workout Supplements and Why Are They Necessary?
Pre-workout supplements are well-known in the weightlifting and weight-training world.
For those who haven't heard of them before, they are a supplement taken before a workout to help you increase the results obtained from your workout sessions.
Such supplements are known for giving that extra explosive energy to weightlifters.
Suppose you are looking to improve muscular endurance and consistently get fatigued at crucial moments in your workout sessions. In that case, pre-workout supplements may be just what you need to give you that extra edge.
Also, if you lack the motivation to train, pre-workout supplements often give you the boost to go training and work to your maximum.
What Does Beyond Raw Lit Have To Offer?
The following section reviews Beyond Raw's 'LIT' pre-workout supplement to give you all the necessary information about the product:
About Beyond Raw LIT Pre-Workout
The Beyond Raw LIT product is a seven-ingredient pre-workout formula. Beyond Raw is a specific line of products that comes under the GNC brand umbrella.
Beyond Raw LIT Pre-Workout Benefits
Beyond Raw LIT is undoubtedly an improvement on the previous 'Savage' pre-workout formula.
Particular benefits of this formula include that it is well–caffeinated, which gives users all the necessary energy required to improve training performance.
The taste of the product rates very highly, thanks to the addition of 4 grams of carbs. When combined with artificial and natural flavors, the product doesn't leave you with that chalky aftertaste of other pre-workout formulas.
The presence of L-Citrulline—which can beat your stomach enzymes to go straight into your bloodstream—helps increase your blood flow while you train, which can help pump oxygen to your muscles.
In the bloodstream, L-Citrulline turns into l-arginine, which then creates nitric oxide. Nitric Oxide is vital for the health of blood vessels to increase blood flow. 
In summary, Beyond Raw LIT
Improves energy levels
Heightens focus
Boosts endurance
Improves strength
Maximizes your workout sessions
Beyond Raw LIT Pre-Workout Ingredients
As mentioned, there are seven key ingredients in the Beyond Raw LIT pre-workout formula. They are listed and explained below:
Beta-Alanine (3.2g): This ingredient is known for giving that tingle in your mouth. Its primary use is to control muscle acidity, which leads to stronger endurance.
Micronized Creatine (1.5g): Similar to caffeine, this ingredient provides that spark of explosive energy.
Caffeine (250mg): An essential part of most pre-workout supplements, caffeine is a fast-working source of energy. The dosage in this formula is a reasonable level compared to other products.
ElevATP (150mg): A variety of non-toxic mushrooms designed to help the body resist physical stress.
NeuroFactor (100mg): A unique coffee extract from the entire bean fruit designed to protect nerve cells from damage.
L-Citrulline (3g): Stimulates nitric oxide production to improve blood flow.
Nitrosigine (1.5g): Also helps create nitric oxide by creating l-arginine that is bonded to silica.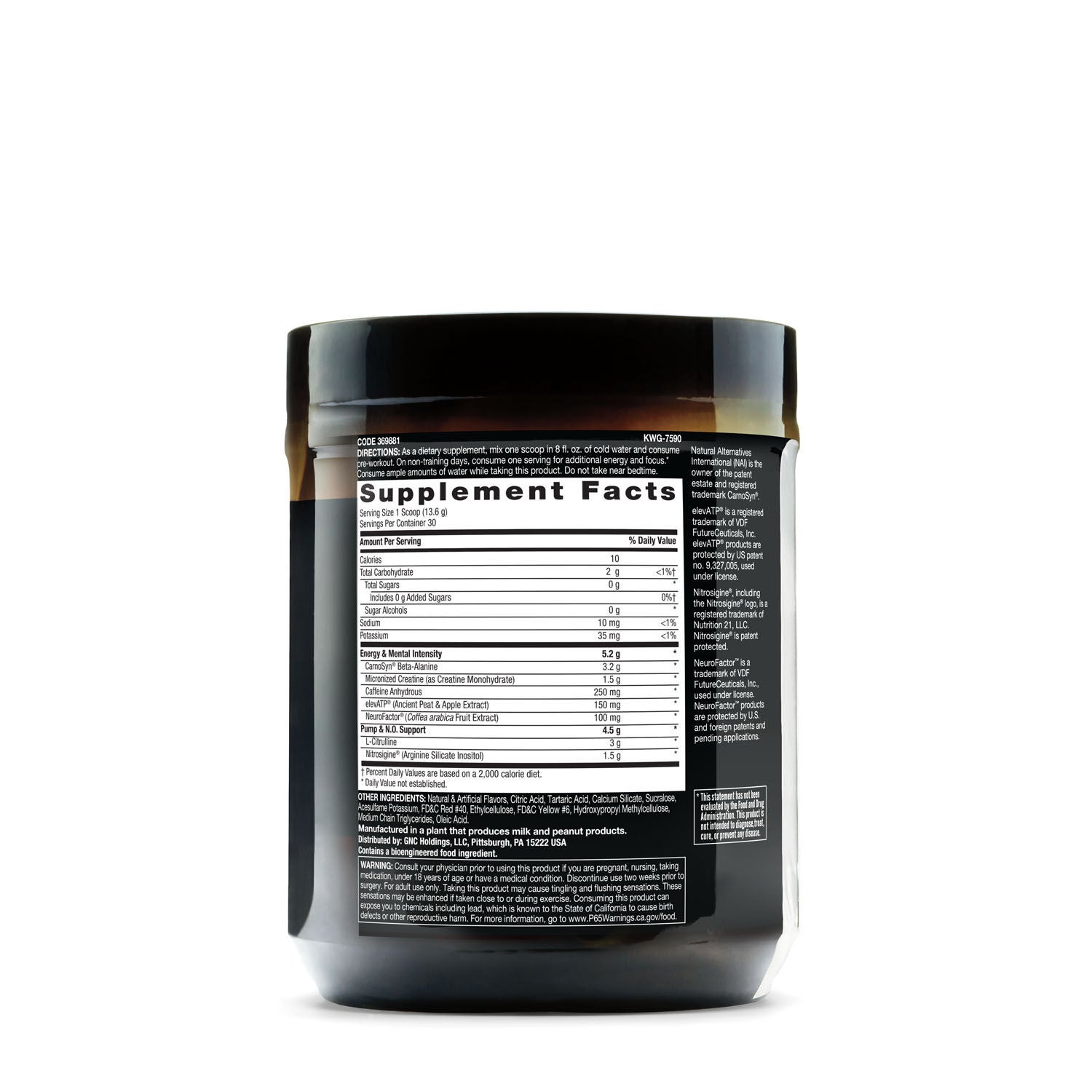 Does Beyond Raw LIT Pre-Workout Work?
Although the product has quality ingredients and is ethically made, you might not see experienced weightlifters and weight trainers flocking to the shelves or lining up to buy the next edition—it doesn't set itself apart from other products out there.
However, if you've never used a pre-workout supplement, you will probably find that the LIT product works well for you.
Compared to leading pre-workout formulas, the LIT formula still has some work to do to convert pre-workout supplement enthusiasts.
This is due to the under-dosing of certain ingredients that most avid trainees like to feel—and that lack the sufficient explosion of power compared to more prominent brands might be Beyond Raw's downfall.
Who is Beyond Raw LIT Pre-Workout best for?
The product best serves beginners who have no point of comparison. The product won't stack up for experienced weightlifters and trainers or even anyone who is experienced in taking pre-workout supplements.
Beyond Raw LIT Pre-Workout Safety and Side Effects
Side effects are generally minimal for this product.
If any, you may experience a tingling or itching sensation in your muscles due to beta-alanine. Side effects of caffeine may also apply, such as headaches or problems going to sleep.
How To Take Beyond Raw LIT
Mix one scoop of Beyond Raw LIT in 8fl.oz of cold water and take it before your workout.
Where to Buy and Costs
Beyond Raw LIT can be bought from the GNC website or online from vendors such as Amazon or eBay. A 30-day serving of Beyond Raw LIT costs $44.99.
The product is commonly available in powder form or as gummy worms.
Beyond The Gym
The Beyond Raw LIT pre-workout supplement is a solid new upgrade from the previous Savage product. Made of good ingredients with ethical and healthy proportions of ingredients, the product is likely to improve performance.
For professionals and experienced pre-workout users, the product probably does not stack up compared to other well-known brands. However, if you are a first-time user, the Beyond Raw formula, in either powder or ready-to-drink, will give you a much-needed physical and mental lift for your training session. 
Altogether, you can try Beyond Raw LIT and return it for a refund or exchange it for another product within thirty days if you're unsatisfied.